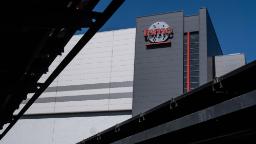 New Delhi
CNN Business
—

Shares of Taiwan Semiconductor Manufacturing Company rose on Tuesday after Warren Buffett's Berkshire Hathaway revealed it had bought a $4.1 billion stake in one of the world's largest chip makers.
In a filing with the U.S. Securities and Exchange Commission on Monday, Berkshire Hathaway ( BRKA ) said it acquired about 60 million American depositary shares of TSMC ( TSM ) in the three months ended September.
Shares of TSMC rose more than 8% in Taiwan on Tuesday.
"TSMC welcomes all investors with a propensity to buy and hold TSMC shares," a spokesman for the chip maker said.
TSMC accounts for roughly 90% of the world's super-advanced computer chips, supplying tech giants like Apple ( AAPL ) and Qualcomm ( QCOM ).
Berkshire's purchase of a stake in the Taiwanese chip giant comes as tensions between China and the self-ruled democratic island heat up.
Taiwan has faced increasing military aggression from Beijing in recent months, highlighting the critical role it plays in the global chipmaking industry.
Super-advanced semiconductor chips, such as those produced by TSMC, are difficult to manufacture due to the high cost of development and the level of know-how required, meaning that much of the production is concentrated in just a handful of suppliers .
The company, widely referred to in Taiwan as its "holy mountain", is so important to the island that its employees can apply to be exempted from military reservist training, the defense ministry has said.
Tensions between Washington and Beijing have also risen recently over chips, with President Joe Biden imposing a wide-ranging set of controls on the sale of advanced chips and chip-making equipment to Chinese companies. Experts fear that these controls could shift the technological arms race between the United States and China to a whole new level.
Berkshire also has large stakes in Apple, Bank of America, Coca-Cola, Chevron and American Express.
— Eric Cheung contributed to this report.