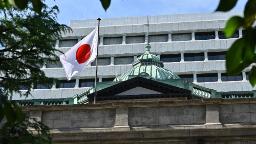 Japan's economy unexpectedly contracted for the first time in a year in the third quarter, fueling more uncertainty about the outlook as risks of a global recession, a weak yen and higher import costs weighed on consumer spending homes and businesses.
The world's third-largest economy has struggled to get going despite the recent lifting of Covid restrictions, and has faced mounting pressure from red-hot global inflation, interest rate hikes around the world and the war in Ukraine.
Gross domestic product fell an annualized 1.2 percent between July and September, official data showed, compared with economists' average estimate of a 1.1 percent expansion and a revised increase of 4.6 % in the second quarter.
It translated into a quarterly decline of 0.3%, against a forecast of 0.3% growth.
In addition to suffering a global slowdown and rising inflation, Japan has been facing the challenge of the yen falling to 32-year lows against the dollar, which has added to cost-of-living tensions by further pushing up the price of everything from fuel to food.
"The contraction was unexpected," said Atsushi Takeda, chief economist at the Itochu Economic Research Institute, adding that the biggest aberration was larger-than-expected imports.
"But the three key pillars of demand – consumption, capital spending and exports – remained in positive, if not robust, territory, so demand is not as weak as the overall figure shows."
However, risks to Japan's outlook have increased as the global economy teeters on the brink of recession.
Economy Minister Shigeyuki Goto said a global recession could hit households and businesses.
At home, policymakers and citizens are bracing for a possible eighth wave of the Covid pandemic, adding to the gloom of private consumption, which accounts for more than half of Japan's economy.
In the third quarter, private consumption grew 0.3%, a touch above the consensus estimate of 0.2% growth, but decelerating sharply from a gain of 1, 2% of the second quarter.
"Growth should turn positive in the fourth quarter, amid a pick-up in inbound tourism and a smaller trade deficit, but the eighth wave of viruses and rising inflation will limit the recovery," said Darren Tay, Japanese economist at Capital Economics.
Tay noted that non-residential investment rose 1.5% quarter-on-quarter, below the consensus of a 2.1% increase and Capital Economics' estimate for a strong 3% growth rate.
Exports grew by 1.9%, but were overwhelmed by strong gains in imports, meaning external demand subtracted 0.7 percentage points from GDP.
Prime Minister Fumio Kishida's government is increasing support for households to try to ease the effects of inflation, with 29 trillion yen ($206.45 billion) in extra spending in the budget. The Bank of Japan has also kept its monetary stimulus program very loose to help revive the economy.
Capital Economics' Tay sees a tough 2023 for Japan.
"Looking to 2023, Japan will be dragged into a mild recession in the first half by a global recession that will weigh on exports and business investment."