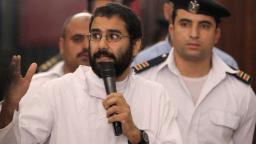 CNN
—

Alaa Abd El-Fattah's sister said on Tuesday she had received a letter saying the jailed British-Egyptian activist had ended his hunger strike after more than 200 days.
"The important thing is that on Thursday I want to celebrate my birthday with you, I haven't celebrated it in a while, and I want to celebrate it with my cellmates, so bring a cake, normal provisions, I've broken the strike ". reads part of the letter, allegedly from Abd El-Fattah and addressed to his mother, which was posted on Sanaa Seif's Twitter account.
"We just got this letter. Alaa has broken her hunger strike. I don't know what's going on inside but our family visit is scheduled for Thursday and she tells us to bring a cake to celebrate her birthday. #FreeAlaa," she wrote Seif, along with an image of the letter.
Earlier this month, Abd El-Fattah intensified a more than 200-day hunger strike and stopped drinking water as world leaders began to gather in Egypt for the COP27 climate summit.
The plight of the Arab Spring activist has cast a shadow over the event and prompted new calls for his release, including from Amnesty International. British Prime Minister Rishi Sunak also raised Abd El-Fattah's case while attending COP27.
Egypt's foreign minister, Sameh Shoukry, said Abd El-Fattah's situation was a "judicial matter" and claimed he had received a "fair trial".
On Monday, Seif said on Twitter that Egyptian prison officials sent a note to his mother saying that Abd El-Fattah was alive and had returned to drinking water on Saturday.
Seif held a press conference last week during which he said the family did not know if Abd El-Fattah was alive. Egyptian authorities have repeatedly resisted calls for his release.
Abd El-Fattah was one of the main activists in Egypt's 2011 uprising, which overthrew the government of dictator Hosni Mubarak.
Mubarak's democratically elected successor was ousted in a coup and replaced by Abdel Fattah el-Sisi, the current president, under whose rule civil society and freedom of expression have been stifled.
Abd El-Fattah has spent much of the past decade in prison on charges that activists say are politically motivated. In 2019, he was sentenced to an additional five years in prison for allegedly spreading fake news after sharing a Facebook post highlighting human rights abuses in Egyptian prisons.