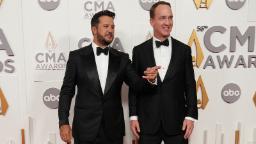 CNN
—

The Country Music Association Awards will be presented on Wednesday night.
First-time nominee Lainey Wilson leads the list of nominees entering the show with six nominations, followed by Ashley McBryde, Carly Pearce and Chris Stapleton with five each.
Below is a list of CMA Awards nominees with winners in bold. The list will be updated throughout the night.
Luke Combs
Miranda Lambert
Chris Stapleton
Carrie Underwood
Morgan Wallen
"Buy Dirt" – Jordan Davis featuring Luke Bryan
"Half of My Hometown" – Kelsea Ballerini with Kenny Chesney
"I never wanted to be that girl" – Carly Pearce and Ashley McBryde
"Until You Can't" – Cody Johnson
"You should probably leave" – ​​Chris Stapleton
"Growin' Up" – Luke Combs
"Humble Quest" – Maren Morris
"Palomino" – Miranda Lambert
"Saying What I'm Thinking" – Lainey Wilson
"Time, Tequila and Therapy" – Old Dominion
"Buy Dirt" – Jordan Davis featuring Luke Bryan *WINNER
"I never wanted to be that girl" – Carly Pearce and Ashley McBryde
"Sand in my boots" – Morgan Wallen
"Things A Man Should Know" – Lainey Wilson
"You should probably leave" – ​​Chris Stapleton
Miranda Lambert
Ashley McBryde
Carly Pearce
Carrie Underwood
Lainey Wilson
Eric Church
Luke Combs
Cody Johnson
Chris Stapleton
Morgan Wallen
Mrs. A
Little Big City
Midland
Old Domain *WINNER
Zac Brown Band
Brooks and Dunn
Osborne brothers *WINNER
Dan + Shay
LOCASH
Maddie and Tae
"Beers On Me" – Dierks Bentley featuring BRELAND & HARDY
"If I Didn't Love You" – Jason Aldean and Carrie Underwood
"Longneck Way To Go" – Midland featuring Jon Pardi
"Never Say Never" – Cole Swindell featuring Lainey Wilson
"I never wanted to be that girl" – Carly Pearce and Ashley McBryde
Jenee Fleenor, Fiddle *WINNER
Paul Franklin, steel guitar
Brent Mason, guitar
Ilya Toshinsky, Banjo
Derek Wells, guitar
"I Bet You Think About Me" (Taylor's Version) (From The Vault) – Taylor Swift featuring Chris Stapleton
"Longneck Way To Go" – Midland featuring Jon Pardi
"Never Say Never" – Cole Swindell featuring Lainey Wilson
"I never wanted to be that girl" – Carly Pearce and Ashley McBryde
"Until You Can't" – Cody Johnson
HARDY
Walker Hayes
Cody Johnson
Parker McCollum
Lainey Wilson